At Farris Heating & Air, our goal is to keep you comfortable in Bartlesville regardless of the season. Our service and change-out specialists are here to help your family with 24/7 emergency support for all heating and cooling brands.
We have more than 50 years of experience in the HVAC industry. Established as Wally's Heat & Air in 1964 by Wallace Farris, we got our start in providing professional home heating and cooling systems.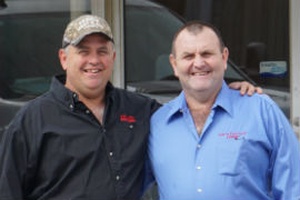 Two decades later, Tim and Toby Farris acquired the family business from their dad and changed the name to Farris ACS. In 1996, our name changed again when the two brothers expanded their services, acquired a second location and became incorporated. Farris Heating & Air, Inc., was now ready to serve an increasing customer base.
Our work hasn't gone unnoticed. We've received several honors, including the Dave Lennox Award, the highest accolade a Lennox® dealer can receive. This means we have been recognized for our commitment to providing excellent customer service, outstanding business practices and superior technical competence.
We're here to respond faster, offer high-quality repairs and replace your old system with modern, high-efficiency home comfort solutions from Lennox. As the leading name in home comfort, Lennox offers some of the quietest and most energy-efficient solutions you can buy.
During a harsh Oklahoma winter, keeping your family warm is of utmost importance. We offer a variety of ways to keep freezing temperatures out and your family in ideal warmth. Our furnaces are quiet, efficient, economical and provide high comfort.
When temperatures soar and the heat is sweltering, we offer a large selection of Lennox air conditioning systems that will keep you cool and comfortable in the summer months.
We know that replacing your air conditioner, heat pump or furnace can be a surprise you're sometimes not prepared for. That's why we offer a variety of financing solutions for qualified customers to help make your new system fit your budget.
Besides repairs and replacement, we can also help improve your home's indoor air quality, keep your equipment running smoothly with a maintenance agreement, and renovate and design air duct systems.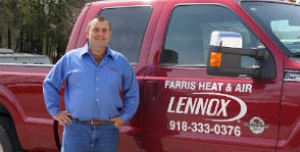 All our experienced technicians are state journeymen, who are licensed, EPA certified and NATE certified. Achieving NATE certification means passing rigorous training to achieve the top endorsement in the HVAC industry. We're prepared to answer all your questions with industry knowledge and experience.
Farris Heating & Air is Christian-owned company. We try our best to practice Christian behavior and principles in our business. We are proud of our Lord and Savior Jesus Christ and lift him up in our jobs.
Our professionals work hard to ensure the safety and comfort of your family and employees. Call on us today at 918-333-0376 for all your HVAC needs!